V10 Update (Now Available)
The long awaited release, Forex Steam V10 is now available. It's recommended that all current clients go to the members area and download it.
This post will go over some of the different changes, and let you know how to install it properly.
V10 Installation
Installation is quite simple, and much like the old installation with one addition.
Download the files in the members area.
Open MT4/MT5
Click File > Open Data Folder
Copy and paste (drag and drop) the ex4/ex5 files into the MQL4/5 experts folder
Go into MT4 and right click and hit refresh in the experts folder
Drag and drop Steam v10 onto your chart
Authentication is a little different now, there is an added step. There is also a brand new authentication video on the authentication page.
Open MT4/MT5
Click Tools > Options
Go to Experts tab and tick Allow WebRequest for listed URL
Then enter https://www.forexsteam.com (do not make any typos here or it won'r work, just copy it from here)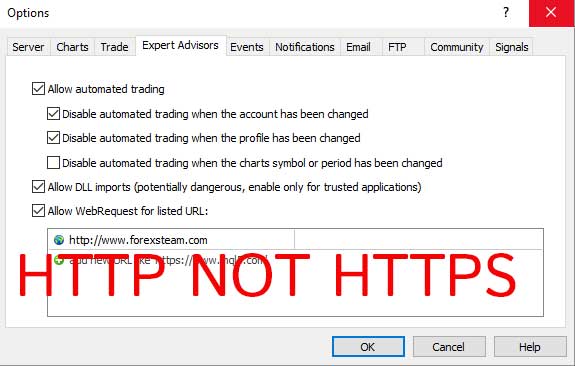 V10 Updates
Now that we got that out of the way, let's dive into the actual changes that V10 offers.
The first notable change is that the software is now compatible with both MT4 & MT5. This is a step that we wanted to take so that we were ready for all future updates. This wasn't an easy process for our developers to take a system that has thousands of lines of code, but they did an excellent job, and it shows.
Next, is the insertion of maxspread. This feature is the perfect addition to the Forex Steam strategy. As the market fluctuates throughout the day, so does your spread, and often times it gets quite high. During this periods we don't want the system to trade, and that is what maxspread allows us to do. It will now avoid market conditions when the spread isn't favorable, when activated. You should monitor your account throughout the day to see what the average spread is though, and don't set this function too low or the system won't trade often enough for you.
Major market updates. With every update we do major market tweak based on the work of our dedicated analysts. Our team sits down and decides the direction and forecast each pair. This data, works alongside the built-in strategy of the Steam system to provide better trade opportunities, and avoid the market when it is not in our favor.
We removed the News Filter, with years of data behind us, it was apparent that this filter got in the way of more wins than losses.
Conclusion
This update will set us on an expert course in 2019, and beyond.
Thank you to the many clients that have been with us during this 10 year journey.
If you have any additions you would like to see added, you can comment on our socials (Facebook, Twitter, LinkedIn)or email us. We are always receptive to the views of our clients, as you have helped us get to where we are today. There is no way our software would be as profitable as it is, without the help of this community.
Go now, and enjoy V10!