POWERFUL & SUPER RELIABLE

FOREX 

ROBOT
Forex Steam is the longest running robot of it's kind with the most active group of developers in the market.
Forex Steam is a 100% automated trading solution. With over 25 years of experience in the Forex market our team has put together a system that provides long term growth in a low risk environment.
We have been able to outlast every other system in the market during our time by updating the software frequently and staying ahead of the curve. We know that Forex trading isn't static so we continue to develop the system and add new features.
On the right you will see some of the important aspects of the Steam software and if you scroll down you will find results, features and more.
Instant download after purchase (includes free installation and video guides)
Continued testing and optimizing, providing free updates regularly
4 licenses which can be used or reused on demo or live accounts
10 years of real live trading proof showing long term success and big gains
Easy to customize features with advanced filters, trailing stop, break even and more.
WINNING PERCENTAGE BY YEAR
The reliability of our software is proven by the consistent rise in winning percentage over our history. On the right hand side you will see the amount of days the tests have been running.
MORE
TRADING
RESULTS
Check out the most recent history of Forex Steam in this image here.
2017 Profit

2018 Profit

2019 Profit

2020 Profit
ADVANCED 
FOREX STEAM 
FEATURES
Learn why Forex Steam is years ahead of the competition and why this Forex robot has every edge on the market.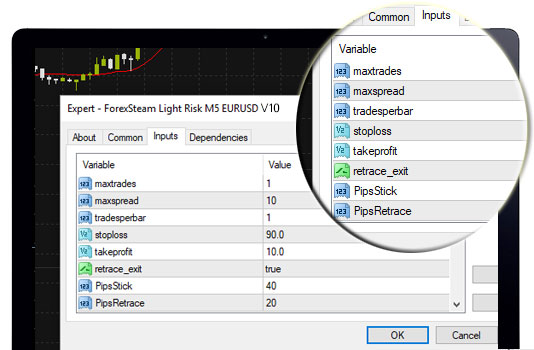 ADVANCED RETRACE TECHNOLOGY
The Steam retrace technology is the most effective way to secure wins, and limit losses. This tech has been part of our software for 10 years, and we've updated it hundreds of times to ensure that it remains the best in the market. This tech in conjunction with our low risk trading approach, is perfect for any level of trader, with any level of expertise. This parameter is bound to grow your account fast.
ADVANCED HOLIDAY FILTER
The Forex steam holiday filter gives us the opportunity to avoid holidays that create unpredictable market moves. We have a pre-installed list of holidays we want our clients to avoid.  Have a day you don't want the software to trade? You can add it into the holiday file and the software won't trade it.
SPREAD FILTER
The spread filter will ensure that the EA only enters trades when the conditions are perfect. Our technology is perfectly aware of the market conditions at all time. If you want to be successful, be aware of your surroundings, and adapt.
TRAILING STOP AND BREAK EVEN
The trailing stop feature allows us to set a moving stop loss behind our trades so that we can let them breathe and pick up larger wins. The break even feature is similar except it sets a hard stop loss that doesn't move once the trade hits a specified pip value.
SEE WHAT OUR 
CUSTOMERS 
ARE SAYING
We currently have over 1000 active successful customers. Every once and a while one of them emails us their thoughts, here they are.
Forexsteam I use and I'm quite happy. I first tested on a broker account with € 100 and it did not work well. I contacted support and I immediately had the answers to my questions. I then tested another broker and then the robot works. All my trades are made ​​exactly like the demo account. It is extraordinary gains made ​​with Forexsteam. Advice, read the instructions, install exactly as advised, choose a good broker (eg those recommended) AND WIN. A very good EA A serious team Some very good gains I hope that in 20 years they will always be there for us and not withdrawn their island
- Djijoun
I rated this system as excellent which is "far better than expected." This is because I had very low expectations going into my use of this software. I read online multiple positive and negative opinions. Wasn't sure who to believe so I just tried it for myself. Happy that I did, I am gaining about 60-80 pips per week on my live account which exceeds any other tool I use. Hope they continue providing updates and value for years to come.
- Rick
I am still using Forex Steam and I am happy to hear that the release of version 7 was just announced. I had a tough couple of weeks but the last few months have been excellent so nothing to worry about. I plan on using the holiday filter and even the time filter to customize Steam a little bit more to fit my schedule and when I feel the market is going to be the calmest. I find Steam works extremely well when there is very little movement so I try to monitor weekly expectations of the pairs I trade that week before setting it up. Keep up the good work.
- Mike Graham
I have been an active user of Steam (Ver 6/7) and have been nothing but pleased with the resutlts. Sure you have your typical ups and downs but this is part of the process, anyone who is not seeing the same must be having user issues as the platform is bulletproof in my experience. I have recommended this to many of my peers all of which are pleased. I never thought I could say this in the FX market but this actually works. There was a point when I was using others and had almost given up on the whole process but then I figured why not I will give this (Forex Steam) my last shot and have never looked back.
- Jakub
I am actually quite pleased with steam. I've used steam for just over 2 months now, and honestly I think it's the best E.A.. I would definitely recommend this for *new traders like me*, who do not currently trade FOREX, but want to start!!
- Jordan Gearbong
Just as I sat down to write this review Steam locked in £12.83 profit on EURUSD, three hours earlier it did the same with USDJPY. I have been using Seam for about two month on my live account and three month on my demo account. Now, think about it, would I still be using it if it didn't make money? So, I am not quite sure what the negative feedback is about, but what ever it is, I am sure guys behind the Steam can sort it out, just have to stick to what they say, or maybe someone is trying to damage Steam's reputation so that they can sell something of their own. The strategy that they have built in to this robot is great and now Steam 7 is even better it takes care of bank holidays and news when the market becomes more unpredictable. I tend to follow the market my self as well and not leave it on its own, but I got to say Seam predicts the market very well. So far my live account grows every week. I have had losses as well, but that comes with trading which ever method or strategy you use. Also, got to make a habit of checking their website every day for new Steam updates and warnings about choppy market. Keep up the good work Steam, I like the name as well it is awesome. Thank you
- Aldis Belovs
Hi Guys just wanted to pop in and toss my 2 cents in the proverbial bucket here. Now,I have been a actively trading for over 17 years now and would be considered..well... for lack of a better term,old school. That said, this amazing tool has shed some new light and opened extended my trading options. First I am not a big fan of Bots or automation in general but this little program has mad me a believer. Usually I'm a bit Leary about re recommendations but I decided to go live with their suggested broker and let me just say.....I was and still am extremely pleasantly surprised with the results. Now as with most things of this nature there will be a few set-backs but to date those are by far out numbered by the upside. I recommended this product to several colleagues of mine both because I trust the product and to be honest and I hope they don't see this-lol...to kinda use them as a gauge to see how others would fair with this tool and lets just say they are all still my friends and have gained a bit more respect as a result of introducing the to this Money making Machine. Had a few questions and concerns in the beginning but this support team was right their to help me navigate through these minor issues and I want to thank them for that. You Guys are Awesome. THIS PRODUCT IS AWESOME!
- Charles F
Tested this EA on a demo account after reading all the "hype" from other users/subscribers with quite some scepticism and low expectations...ran it for all of 48 hours and I have now moved it to run on a small balance live account! 15 trades - 13 wins and two losses, wow! This is the real deal! If you have some experience with MT4 and EAs I suggest you adjust some of the settings to suit you...for example I changed the max lots to be traded from 0.1 to a micro 0.01 because of the size of my small "test" live account; I then also changed the risk from 10% to 5% and voila 30 minutes on, I have 5 open trades and 3 are in the money already...let's see how that goes over the next while!
- Moe
This EA is SPECTACULAR. Period. I'm running it live with their recommended broker and it pumps out winning trade after winning trade. I am running the Steam Light version 6, using all default settings, and am NOT using some of the more advanced features that are available but am happy, happy, happy. How happy? In the next couple of months, I will be able to quit my job and just let Steam run. That's happy, boys and girls! My advice: get it, run it, follow the instructions and don't mess with it. For once, a product does exactly what it advertises.
- Andy Mueller
It definitely has ups and downs but it has been consistent with the winnings. I just talked with the support team and I told them I came across this page and that I would write about my experiences. I'm not going to say this is the holy grail like everyone talks about when it comes to Forex robots. I will say though that this is one of the very few systems I have used that I can trust. It is not perfect, and if you try it for a month and lose, or try it for a week and lose and give up then your really not going to succeed with any method. Have a little patience, like I have and I preach in my Southern Ontario trading group. There are about 15 of us who use Steam and we help each other succeed with it as the main automated trader. I think having a group is very important and that you should look for one local to you, it helps to strive for success as a team.
- Jennifer
WINNING
HAS NEVER BEEN EASIER
Follow the steps or have one of our helpful support members connect to your computer and set up the software for you.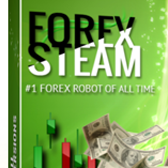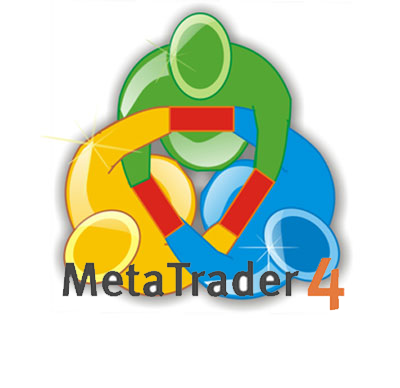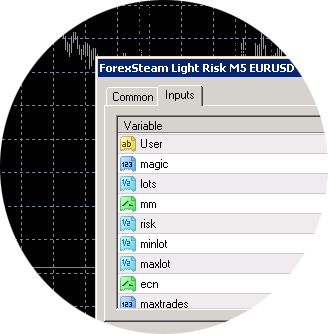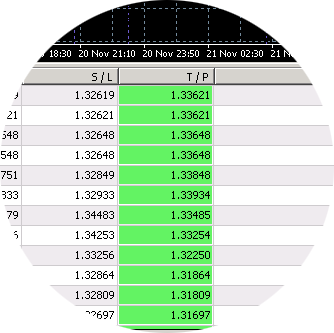 JOIN 

US TODAY
Sign up today for immediate access to all that Forex Steam has to offer and become a lifetime member.
Copies Available Before Price Increase: 3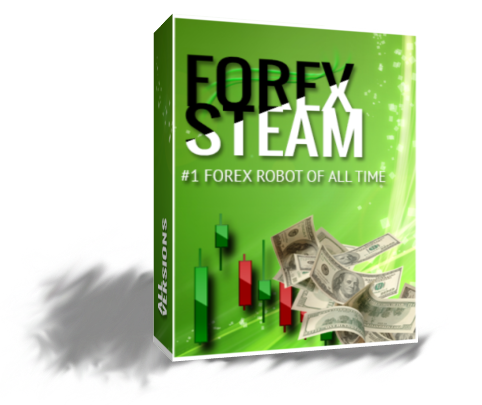 Forex Steam
Sign up and join the thousands that are profiting with Forex Steam.
USD

117.99

One time payment

Forex Steam Lifetime Membership

Instant Access
All Versions of Forex Steam
Free Upgrades For Life
4 Licenses
Free Installation
No Upsells